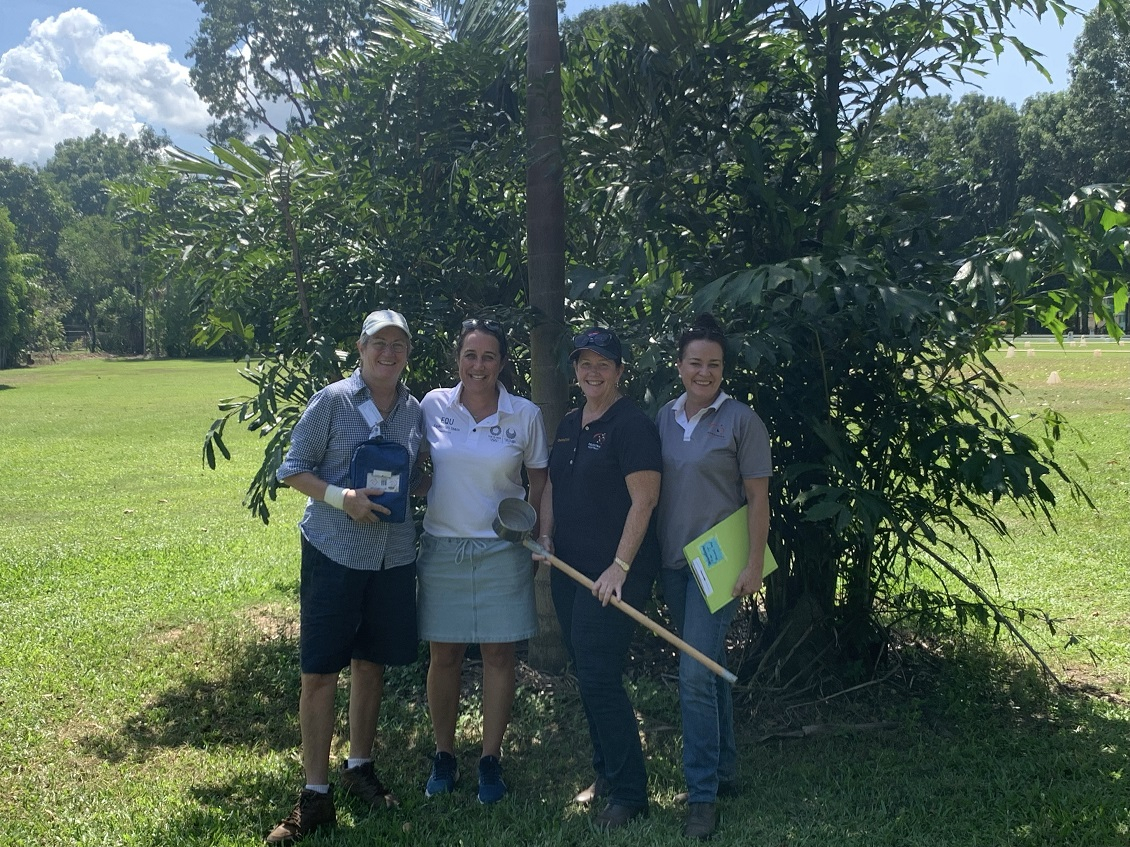 EA MCP Swabbing Steward Course
Over the weekend Equestrian Northern Territory (ENT) in conjunction with the EA National Medication Control Officer, Dr. Penny Dow delivered the EA Medication Control Swabbing Steward Accreditation Course.
Penny took our candidates: Kezia Pruick, Karen Duminski and Tanya Reynolds through theory classroom activities on the Saturday followed by live practice on the Sunday at Freds Pass Reserve having the opportunity to put their newly found skills to the test with the selection of horses at the Darwin Dressage Club Event.
Our candidates did not waste a moment of Penny's expertise and experience.  With almost 20 years of veterinary experience involving both medication control within the equestrian disciplines and the racing industry, Penny has acquired vast knowledge and hands-on experience in these areas.
Penny is a senior diagnostic imaging veterinarian at Scone Equine Hospital in Scone, New South Wales, Penny has been an active member of EA for 25 years as both a rider and official.
Not too long ago Penny was both the Asian and Olympic Games, including being part of the Olympic Veterinary Team in Tokyo Japan as Veterinary Administrator Team Leader (Olympics) and Veterinary Technician Team Leader (Paralympics).
Having highly acclaimed professionals and officials visit the Territory to work with our Officials and candidates is not only beneficial for them, but also conducive to how we professionally conduct equestrian sport in the NT.
Penny provided many valuable insights into the EA Medication Control Program, and how we can better deliver it here in the NT with the education of riders being one of the key aspects.
In accordance with the EA National Medication Control Policy random sampling of horses can take place at any time at any of our affiliated clubs events including the agriculture show society events.
When entering one of these events you are must be aware that your horse may be required for swabbing without any prior notice and can be requested during any stage of the event.
Therefore, it is essential for members to be aware of your obligations and requirements as a competitor.  It is also beneficial for you to understand what your rights are if you are chosen for swabbing.  All this information and more can be found in the EA National Medication Control Policy.
The FEI Clean Sport Ap provides information on equine prohibited substances.  The database will help you identify which substances are prohibited under FEI Regulations.  Although the FEI has taken all reasonable care that the information contained within the website is accurate at the time of publication, there is no guarantee in relation to its accuracy, reliability, or completeness.
If you have questions regarding your equine medication and/or herbal remedies, please discuss with your practicing veterinarian.  They will be able to provide you with accurate information on withholding periods.
Thank you to Equestrian Australia for partnering with ENT to deliver this course in the NT.