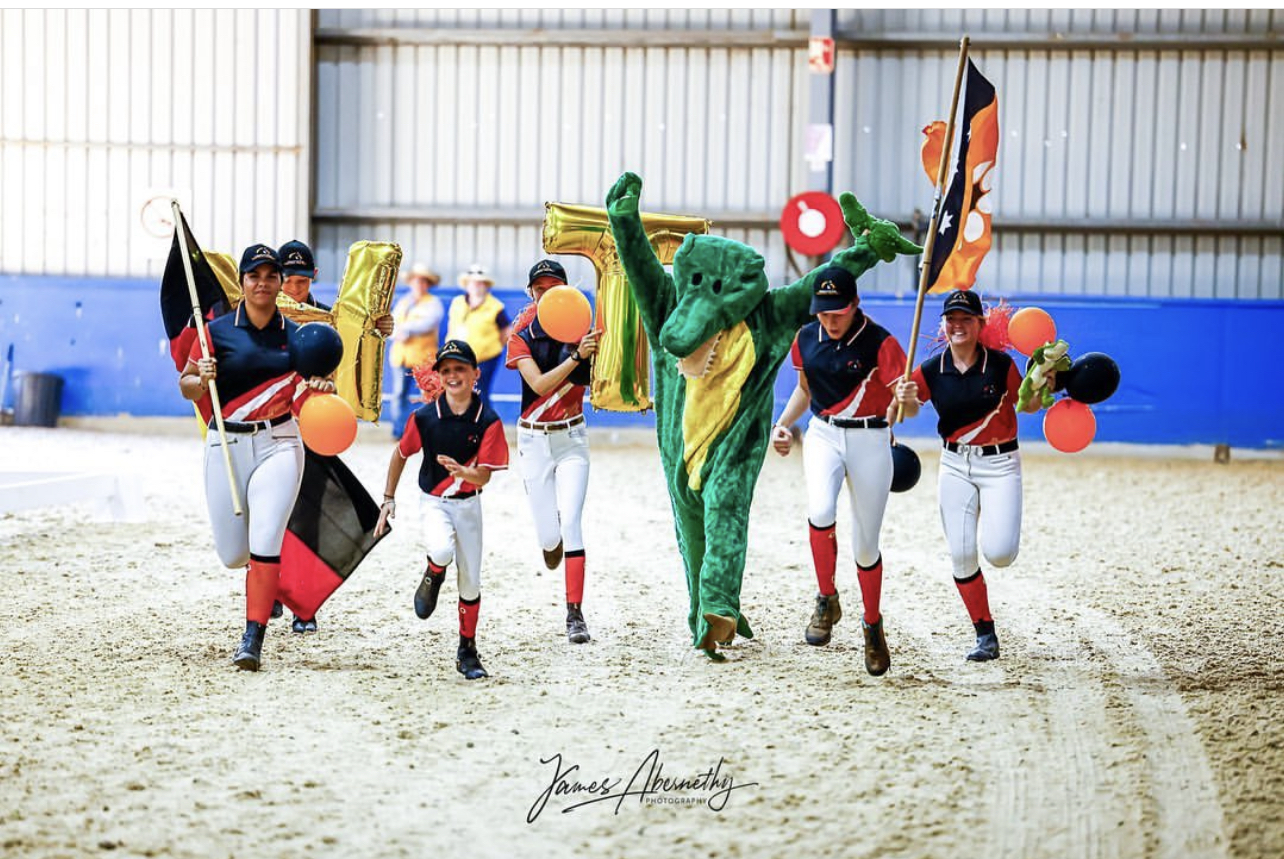 Photo Credit: James Abesnethy Photography
Team NT Shines at the 2023 Marcus Oldham Australian Interschool Championships
The 2023 Marcus Oldham Australian Interschool Championships held in Victoria witnessed an outstanding performance by Team NT, a group of talented young equestrians hailing from the Northern Territory. This remarkable team, led by Captain Lalwa May and Vice-Captain Bridie McKenna, left a lasting impression at the competition, earning accolades not only for their exceptional riding skills but also for their sportsmanship and camaraderie.
An Impressive Lineup
Team NT was composed of six dedicated riders, each showcasing their prowess in various equestrian disciplines. The team consisted of:
Lalwa May (16) C, who rode Woodleigh Rolando, owned by Mickayla and Greg Hogg. Despite facing adversity with her horse's lameness leading up to the competition, Lalwa displayed remarkable determination, finishing 13th in the 100cm Senior Jumping and 14th in the 90cm Senior Jumping on a horse she had just met.
Bridie McKenna (15) VC, who rode Batman Xtreme, owned by Justine Greer and Mark Nicholls. Bridie's consistent performance earned her two impressive fith-place ribbons, one in the 110cm Senior Jumping and another in the 100cm Senior Jumping. Bridie finished 9th in the Senior 100cm Jumping and 10th in the Senior 110cm Jumping.
Layne Martin (14), aboard Valiant Star, owned by Cait and Nellie Rogers. Layne showcased his skills with a fantastic showing, securing three ribbons – 3rd, 2nd, and 5th – in the 100cm Intermediate Jumping competition.Layne also earned a ribbon for his 4th place finish in the Intermediate 90cm Jumping, ultimately landing him at 9th place overall in Australia for the Intermediate 90cm Jumping.
Maya Purdon (14), who rode Dalis, owned by Chrissy Grear, and competed in Secondary Preliminary Dressage and Combined Training – Secondary 80cm. Maya exhibited her skills, culminating in a 13th place finish in the Combined Training - Secondary 80cm event.
Georgia Dennis (14), aboard Chatswood Delago, owned by James and Tanya Lang. Georgia participated in the 90cm Intermediate Jumping and Combined Training – Secondary 80cm. Her remarkable performance earned her a 14th place finish in the Combined Training - Secondary 80cm event.
Bailey Howie (9), who rode Highland Calypso, owned by Lindsay Constable and her family, Mark, Georgie, and Ellie. Bailey competed in Combined Training – Primary 60cm and Primary Preliminary Dressage, impressively securing a 12th place finish in Primary Preliminary Dressage.
Sheena Huppatz, Team Manager, organistaional skills and team spirit was the glue the held the team together to shine at the championships.
Brooke Huppatz (14), portaying the team mascot 'the croc'.
Layne Martin Triumphs as Reserve Australian Champion in 100cm Intermediate Jumping
Layne Martin has emerged as a beacon of excellence, capturing the coveted title of Reserve Australian Champion in the fiercely competitive 100cm Intermediate Jumping category. This remarkable achievement is a testament to Layne's unwavering dedication, exceptional horsemanship, and his innate ability to form a seamless partnership with his equine companion.
Exceptional Sportsmanship
Team NT's success wasn't limited to their impressive individual achievements. They also walked away with the coveted Team Sportsmanship Award, a testament to their exceptional sportsmanship and willingness to help wherever they could. Their camaraderie and support for one another were evident throughout the competition, setting a shining example for all participants.
A Bright Future
The 2023 Marcus Oldham Australian Interschool Championships will be remembered as a momentous occasion for Team NT. These young riders from the Northern Territory demonstrated not only their equestrian prowess but also their unwavering determination and teamwork. We can only anticipate greater achievements from these talented individuals in the future as they continue to ride towards success. Team NT has truly made their mark on the Australian equestrian scene, and their journey is far from over. We eagerly await their future endeavors and applaud their outstanding performance at the championships.
Equestrian Northern Territory's commitment to investing in and supporting the Australian Interschool Championships and the Interschool program in the NT demonstrates its dedication to the growth of equestrian sports in the NT. Through development, financial support, coaching, and community-building initiatives, ENT is creating a nurturing environment for young riders to thrive and excel. As we witness the continued success of equestrian sports in the NT, it becomes evident that ENTs investment in the future of the sport is not only commendable but also essential for its sustainability and growth.